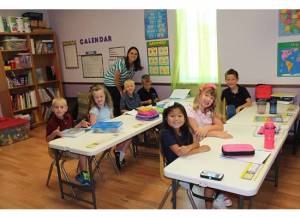 Education is not the filling of a pail, but the lighting of a fire. –William Butler Yeats
M
arian Hope Academy Christian School for Creative Learning is a small Christian school offering personalized education with a classical and Christian foundation. The academy is a blended school of children with all abilities. The goal: provide a Christ-like community academy that excels in problem-solving and critical thinking, oral and written language, missions, and Godly use of self-creativity.  We desire our students to be confident, competent, self-determined and demonstrate inspiring work ethic.
Marian Hope Academy opened in September 2013. We offer learning for Kindergarten through 12th grade students.  We utilize the Classical Christian Philosophy as the curriculum foundation. With that, however, we believe that children are created "uniquely special" and, therefore, learn in "uniquely special" ways. We are not an academy that focuses on a "cookie cutter" curriculum but rather desires to build appropriate curriculum to meet and challenge the level of each child. Varying teaching strategies and experiential learning activities will be incorporated into each child's curriculum plan. We are blessed to have a remarkable committee of dedicated educators and parents eager to help each student in our academy become the amazing person God created them to be and to achieve their God-given potential.
To provide the highest quality of education, it is important we maintain a low teacher-para/student ratio no higher than 1-10. We provide daily opportunities for one-on-one learning as needed, large group activities, and pairing of differing developmental levels.  We will provide weekly opportunities for Art, Music, Fitness, Cooking, Latin, Oral Communication (such as speech/debate/forensics) and Drama/Presentations and other stage opportunities to verbally communicate ideas and information. We will additionally coordinate field trips and a monthly mission outing. The students in our academy will also take on a variety of responsibilities to foster work ethic, organizational skills, and cleanliness.
Most importantly, our academy is governed by the love of Jesus Christ. The children receive daily prayer and devotion. We want the Bible to come to life for our students and for each to know how very much God loves them.  Read our Statement of Faith.  "And may you have the power to understand, as all God's people should, how wide, how long, how high, and how deep His love is." ~Ephesians 3:18