Handwriting is not always the first activity that your child will ask to do when playing at home, but here are a few ways the make handwriting practice a little more fun for your kids.  Remember to have fun and encourage proper letter formation, but any practice is beneficial!
1.    Sand
Put colored sand in a cookie sheet or small container, it is nice if the container has a lid so you can keep it for more practice later.  Have your child write letters or words in the sand using their finger or an unsharpened pencil.
http://oneextradegree.blogspot.com/2011/08/word-work-center-etc.html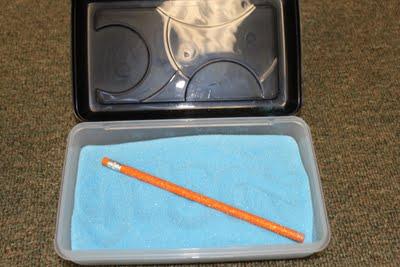 2.    Sand paper
Have your child write using a crayon on paper placed over sand paper. Sometimes just writing on a bumpy texture makes it more fun.
3.    Paint in a baggy
Fill a freezer sized zip-lock bag with paint and tape the top closed .  Have your child use q-tips to write words or letters in the paint. http://lets-explore.net/blog/2009/10/paint-bag-writing/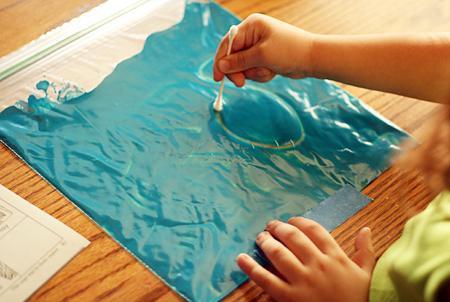 4.    Shaving cream
Spray shaving cream on a table or cookie sheet for your child to write words or letters using their finger ( Be careful of spraying shaving cream on wood surfaces! Sometimes the shaving cream can take off the finish!)
5.    Rainbow writing
Have a child trace a word or letter with all the different colors of the rainbow.
http://www.notimeforflashcards.com/2012/02/rainbowing-colorful-handwriting-practice.html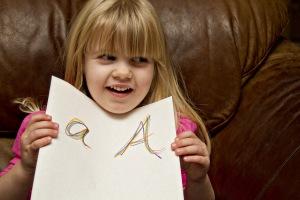 6.    I-spy bottle
Fill an empty water bottle with rice or beans and small words or small silly objects (buttons, marbles, small plastic toys, beads, etc) Have your child shake the bottle to try to find all the objects. They can write down the objects that they find.  http://www.meetthedubiens.com/2010/11/i-spy-bottles.html
7.    Sidewalk chalk
Play outside and write words or letters with chalk.
8.    Write with something silly
Have kids write using something other than a pencil or crayon. They can use a q-tip dipped in Kool-aid or paint, a feather dipped in paint, something they find in the kitchen like a sponge or the end of a fork or spoon.  Let them get creative and choose something around the house to write with!
9.    Flashlight writing
Have your child practice writing letters using a flashlight on the wall of a dark room.
10.    Write in clay or playdough
http://nurturestore.co.uk/autumn-play-planner-play-ideas-for-every-day