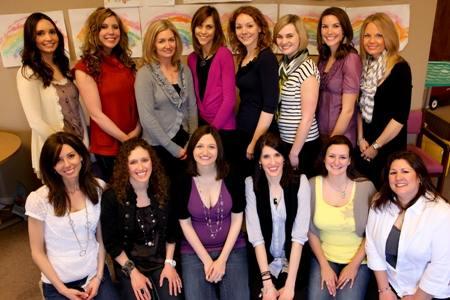 Marian Hope, a faith-based organization, strives to successfully light the fire of learning by integrating all children into our communities and by bolstering hope for each child despite any learning, behavioral, or health challenges they may endure.   Marian Hope provides the tools in-house and in-hand to help the "whole" child fulfill their God-given purpose.
Marian Hope is a non-profit (501-c3) organization.  It was founded in 2007 by licensed speech-language pathologist, Angie Knight, M.A., CCC-SLP, and Karen Embry, parent of a child with special needs.
Four programs are offered that can provide the light of success for each child:
provides a nurturing environment where children feel safe and loved. Marian Hope Center offers a plethora of classes and services for the array of differential learners and learning diagnoses, including: autism spectrum disorders, childhood apraxia & other speech disorders, Down syndrome & other genetic disorders, dyslexia & other reading disorders, the varying specific language & learning disabilities, feeding disorders, sensory integration disorders, & motor disorders. We service all special needs, focusing on the individual child and building individual plans to help each reach their God-blessed potential.

a small Christian school offering personalized education with a classical and Christian foundation. The academy is a blended school of children with all abilities. The goal: provide a Christ-like community academy that excels in problem-solving and critical thinking, oral and written language, missions, and Godly use of self-creativity.

travels into the home, church, daycare, private school, and community organizations that share the mission of lighting that fire, of successfully assisting children in reaching their God-given potential.
Marian Hope staff educates and provides supports to parents/caregivers in the home;
Marian Hope educates and sets up programs for daycare and private schools to successfully integrate children who learn "differently";
Marian Hope provides education and training to any community organization wanting to learn about the importance of building a community strong in the gifts of all God's children, our foundation of the future.
Our therapists and educators work with our registered dietitians to help families understand and embrace better nutrition for their child and for the whole family. What a child eats does affect how he thinks, functions, feels, and behaves. Diet is a critical component to the child's success. The Standard American Diet is not meeting the nutritional needs of children today and the effects are progressive. Marian Hope is passionate about educating families and the community on ways we can shift our food culture so our children can live a life of health, clarity, and vibrancy that God desires for them.

"Empowerment is key … Marian Hope's mission is to give children and their families the tools to succeed." – Angie Knight, Co-founder
"The therapists at Marian Hope Center see the brightest future for our children and help them reach their highest potential." – Parent of Marian Hope Center students.