Marian Hope believes in treating the "whole" child. Our therapists and educators work with our Registered Dietitian, Blakely Page to help families understand and embrace better nutrition for their child and the whole family. In addition to Blakely Page, Marian Hope also hosts a FREE nutritional support group meeting on the first Wednesday of each month (6:30 pm at Marian Hope Center).
When we begin to talk to parents about making nutritional changes, many families benefit from guidance regarding which products to purchase and which ingredients to avoid. Making a shift in grocery shopping and meal planning can be overwhelming. To ease this transition, Blakely or members of the Nutritional Support group will walk through the aisles of Nature's Pantry with them to offer suggestions and tips.
Angie Knight, Marian Hope CEO, and I were first introduced to Bob Perkins, co-owner of Nature's Pantry, four years ago. We had already referred many families to Nature's Pantry and so many of them were shopping there so often that they had gotten to know many of the Nature's Pantry staff members on a first-name basis. Nature's Pantry has supported Marian Hope with sponsorship for our Spring into Hope shopping event. They have hosted and sponsored nutrition and wellness seminars for us when Dr. John and Betsy Hicks have presented. One year, they hosted a Back to School carnival benefiting Marian Hope with fun activities for the kids. The owners and staff were willing participants in the dunk tank. :)
In 2013, Bob came to us with the idea of hosting a 5K run/walk to benefit Marian Hope: Spring into Fitness! It was a huge success for a first year – over 300 runners/walkers participated! I overheard one participant talk about how moved he was by the signs and cheers of sideline supporters as he ran by. We are hopeful to at least double the number of participants this year. The race will be held at Waterfall Park (near Bass Pro) in Independence, MO, on Saturday, April 26. One hundred percent of the proceeds from this event will benefit the children and families that receive services through Marian Hope.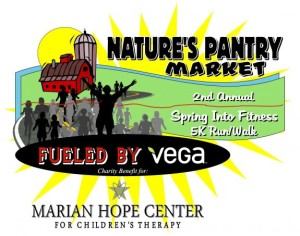 Over the last few years, Nature's Pantry has become one of Marian Hope's biggest supporters! Bob Perkins now serves on the Marian Hope Board of Directors and is helping guide the future of our organization. We thank Nature's Pantry for their past and continued support!
To learn more about the 2014 Spring Into Fitness 5K Run/Walk, please click here.  Sponsorships are still available and participant registration is open.  This is a great way be active while supporting a worthy cause.  We hope to see you at Spring Into Fitness 2014 and in the aisles of Nature's Pantry!
~ Heather Ruoff, COO of Marian Hope
https://www.marianhope.org/wp-content/uploads/2012/11/spring-into-fitness.jpg
453
575
MarianAdmin
https://www.marianhope.org/wp-content/uploads/2023/03/MH_Web-Logo_340x156.jpg
MarianAdmin
2014-02-18 08:43:27
2014-02-06 15:13:10
Spring Into Fitness 2014