Class is starting and Julian heads to the sensory table for "Center Time." He is excited to make rainbows with cereal bits and tweezers with Ms. Sara. He is working on creating patterns with different manipulatives strengthening his grip and motor skills. Ms. Crystal, a speech therapist, is also emphasizing sounds and encouraging articulation within the fun activity. 
Julian will be developing skills suited for kindergarten while receiving the therapy he needs without having to leave the classroom. This classroom provides a unique school experience for Julian but he is not alone in needing a different approach.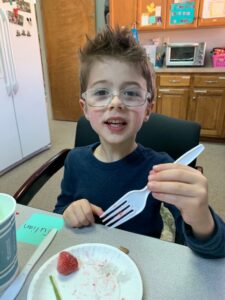 There is a population of children that require a more therapeutic approach to education.  And there are families in our Kansas City community, specifically Eastern Jackson County, who don't know where their child fits in the traditional education space.   
Julian's classmates each have their own challenges. They range in ages 4 thru 7 and may fall on the autism spectrum, have delays developmentally, socially or cognitively or simply require more intentional strategies.  Whatever the case, they are at-risk of falling through the cracks in a conventional classroom.  
This is why we started a Multi-Sensory Academic Enrichment Classroom this school year. For some children who are entering an academic setting for the first time, the standards and rigor of a typical classroom may already be too overwhelming. They need:
Foundational skills like fine motor strength, grip and motor planning before they can be expected to write.  

Phonological awareness to be strengthened before they can begin to read. 

Articulation and language skill development to build speech and social confidence.

And they need to be seen for where they are and what their individual needs are. 
While we work to build the education foundation, a speech and occupational therapist are present to address the unique needs of each student. Because we have licensed therapists and educators simultaneously working together, children like Julian can get the immediate support they need throughout their school day.  
We have a 15-year history of responding to the needs of our community and we seek to continue that charge. This class draws from our comprehensive whole-child model. We meet each child where they are and adapt their education to ensure they do not slip through the cracks and can achieve their highest potential. 
When children like Julian succeed, all boats rise. Families feel empowered and our community is strengthened. And there's a lot of hope in that!
If you have any questions about our Multi-Sensory Academic Enrichment or know someone who could benefit from this educational approach, feel free to contact Heather at 816-695-1255.
https://www.marianhope.org/wp-content/uploads/2021/03/IMG_0155.jpg
480
640
MarianAdmin
https://www.marianhope.org/wp-content/uploads/2023/03/MH_Web-Logo_340x156.jpg
MarianAdmin
2021-04-01 11:21:35
2023-04-03 14:29:45
A Classroom for Kids with Therapeutic Needs