In the spirit of our "real food" series, I thought we'd take a break from information and give you some of my favorite real food treat recipes. Each recipe has passed the test of both my husband, our friends, and my 2-year-old niece. We use these types of recipes to replace processed sugar and gluten-free processed desserts.
Chocolate pudding recipe

(Adapted from www.paleolifestyle.com)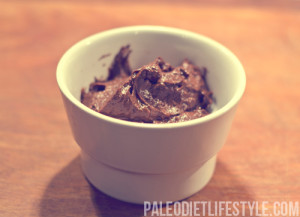 Serves 6
Ingredients
 3 medium avocados
¼ cup raw honey
¼ cup and 2 tbsp cocoa powder
3 tbsp almond butter
1 tsp lemon juice
1 tsp ground cinnamon
1 tsp ground nutmeg
½ tsp flavored extract (mint, coffee, almond, hazelnut), optional
Preparation:  Throw everything into one big mixing bowl and use a stand mixer or a hand mixer to blend it all together. Of course, you can also use a blender or a food processor to to this job. (I use an emulsion blender and it works great) Blend until completely smooth eat! Leftovers go in the refrigerator. Enjoy!
Dairy Free, Gluten Free, Egg Free Brownies!
(Adapted from www.fastpaleo.com)
These are becoming a weekly event at our house. They are a little gooey, but delicious and I've served to friends who loved them. I just called them a "gooey chocolate brownie." I consider this a perfectly legitimate way to increase fiber intake since the dates are a fabulous fiber foo  d!
 Ingredients
 1 cup pitted Medjool dates, chopped (i.e. chop up enough dates to equal 1 cup)
 3/4 cup hot water
 1 Tbsp coconut oil
 2 tsp pure vanilla extract
 2 tsp finely ground coffee or espresso
 1/2 cup unsweetened cocoa powder
 3/4 cup blanched almond flour
 1/2 tsp baking soda
 1/4 tsp kosher flake salt
 Preparation
 Preheat oven to 350 F. Line an 8×8 baking pan with parchment paper (or grease generously).
Combine dates, hot water, coconut oil, vanilla, and finely ground coffee in heatproof bowl. Let dates soak while preparing remaining ingredients.
 Add dry ingredients (cocoa powder through salt) to bowl and whisk until well combined and no lumps are present.
 In food processor or with emulsion blender: Add date/water mixture to bowl of processor and blend on high until smooth, scraping the bowl as needed. Add dry ingredients and process until smooth. The batter will be thick. (Once date mixture is blended, you can mix in dry ingredients by hand. This is easier to me)
 Turn batter into prepared pan, using a spatula to get ALL of the batter into the pan. Spread batter evenly and smooth the top with your spatula. Bake in preheated oven for 15-20 minutes, until brownies are set. Cool on wire rack for 20-30 minutes, then chill (in fridge — or even the freezer) before cutting into squares.
(Optional amazingness– sprinkle dairy, soy free chocolate chips on tip of hot brownies, smooth when melted on hot brownies and finish cooling in fridge. This gives you a hard chocolate topping and a prettier finished product)
Simple Blueberry Muffins
(adapted from www.paleomg.com)
Serves: 8-10
 Ingredients
 1 cup almond butter
 1 cup almond meal/almond flour
 3 eggs, whisked
 ½ cup Raw Honey
 ⅓ cup unsweetended Shredded Coconut
 ⅓ cup coconut oil, melted
 ½ teaspoon baking soda
 ½ teaspoon baking powder
 ¼ teaspoon sea salt
 pinch of cinnamon
 ½ cup fresh blueberries
 Preparation
 Preheat your oven to 350 degrees.
 Mix all ingredients together in a bowl (you can get fancy and mix dry and wet separately but I can't tell the difference)
 Place ingredients into 8-10 silicone muffin cups in a muffin tin or use muffin tin paper liners.
 Bake for 15-20 minutes. Just keep an eye on it, they will puff up and look adorable.
Eat them and be happy.