Halloween can be a really fun holiday, but also controversial and difficult for parents to manage.  I'm never going to be a no-candy dietitian/mom, but I do think that some level of moderation and intentionality can keep the health and food culture of a family on track. There are a million ideas, methods, and tactics th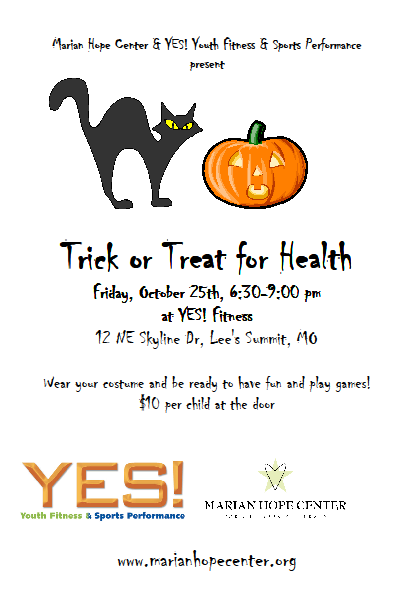 at parents use for candy mayhem management none of which any of you need me to walk you through.
Instead, we're offering you a fun Halloween event that focuses on activity and games rather than sugar and food. Marian Hope Center is partnering with Yes! Youth Fitness to bring you a night of fun and games!
All the proceeds from this event go towards building the nutrition and fitness programs at Marian Hope Center and Marian Hope Academy. Your support is needed to keep offering nutrition resources and help our kids be all they can be!
Come join us! Invite your neighbors, family, friends and co-workers!
Trick or Treat for Health on Friday, 10/25 from 6:30-9:00pm at YES Youth Fitness (12 NE Skyline Dr. Lee's Summit, MO). Wear your costumes!
$10 per child at the door.