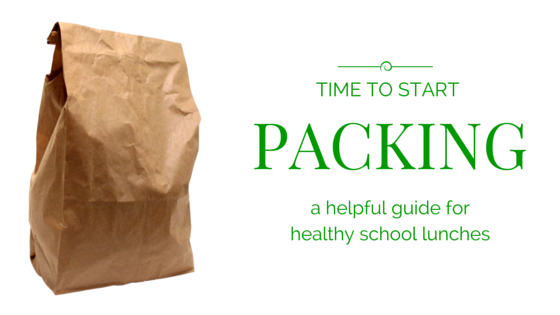 It's time to be packing those school lunches again.  Ready or not, here they come….
It can be easy to fall into the traps of convenient processed foods or lunches that look like everyone else's. A pre-packaged food isn't always faster and usually not healthier. Start this school year out with a bang by prepping lunch ingredients ahead of time and involving the kids in the prep-work over the weekend. If your child developmentally or socially isn't able to "cook" with you, you can use the time together in the kitchen to work on other skills like counting, colors, filling up bags, learning names of foods, and getting familiar with how school lunches will look for them if it is a new thing for your child.
Tips:
Choose from at least 3 categories.

Always choose something from protein category

For older children, let them pack their own lunch 2-3 days a week and don't bother them if they don't pick veggies :). Stick to the 3 category rule with no commentary on how the do it.

Make lunch options ahead of time for the week so all categories are ready to pack

Pack lunches at night to make mornings less hectic

Include kids in making their lunch "treats" ahead on the weekends and encourage them to experiment and come up with new ideas
Protein/Main Course
Meat roll ups with mustard (or condiment of choice)

Egg cups or egg pancakes

black bean quesadilla with corn tortilla (spread mild salsa or enchilada sauce on inside of tortilla for added flavor instead of cheese)

Organic, grass-fed beef hot dog

Tuna salad and gluten free crackers

Salmon patty with dip of choice

Hard boiled egg

Turkey or beef sticks
Fruit
mandarin oranges

apple slices (toss with lemon juice to prevent browning)

grapes

dried fruit

peach or nectarine slices

watermelon

orange segments

½ banana
Veggies
cucumbers and hummus

carrots and sunbutter or hummus

grape tomatoes

celery sticks with hummus or sunbutter

raw broccoli with dairy free "ranch" dip

leftover cooked veggies from dinner

bell pepper slices

pickles
Drinks
Extras
Jackson's Honest potato chips

Mary's Gone Nuts crackers

Popcorn popped with butter or coconut oil sprinkled with nutritional yeast flakes
Treats
Trail mix (nuts, dried fruit, chocolate chips, coconut flakes)

Grain free cookie

Fruit leather

Dark chocolate squares

Sunbutter cookie with chocolate square on top

Gluten free cookie or brownie

Gluten free granola or Paleonola

Lara Bars
Notes:
Nut butters are not included in lists since many schools are "nut free zones." If your child can have them, feel free to substitute sunbutter

Remember protein and fat help boost the brain and keep mood/blood sugar more stable
Happy Packing!
– Blakely Page, R.D.
Registered Dietitian
bpage@marianhope.org