We can always use new ideas in the kitchen and these are 2 great dairy free, gluten free recipes to try!
I must confess, I haven't actually tried this recipe, but it looks great and could offer a nice change to the usual breakfast routine or great snacks kids can manage themselves. I've used many of the recipes from Practical Paleo and they are always delicious. Let us know how it turns out!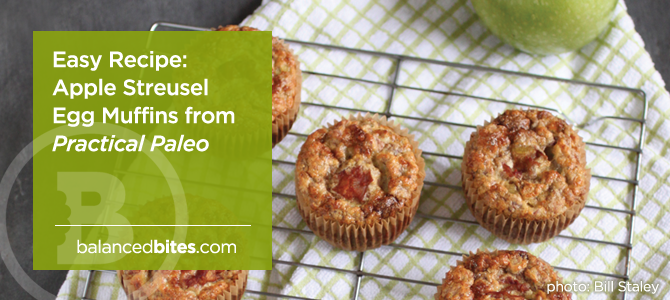 from Practical Paleo (page 254)
PREP TIME: 15 minutes
COOKING TIME: 40 minutes
YIELD: 12 muffins
NUTRITION INFO: here.
Ingredients:
3 large green apples, chopped into 1/2 inch pieces (approximately 2 cups) – peeled if you like

3 tablespoons warm water

2 teaspoons cinnamon, divided

9 eggs

1 1/2 tablespoons butter or coconut oil (to make it dairy-free), melted

3 tablespoons coconut milk

1 1/2 tablespoons coconut flour

1/4 teaspoon baking soda
Preparation:
Preheat oven to 350F.

In a medium skillet, saute the apples, water, and 1 1/2 teaspoon of the cinnamon until the apples are the consistency of chunky applesauce or apple pie filling. Allow the mixture to cool before combining with the egg mixture.

In a medium-sized mixing bowl, whisk the eggs, butter, coconut milk, coconut flour, 1/2 teaspoon of cinnamon, baking soda, and salt until well combined. Add the cooled apples, reserving 1/4 cup for a garnish.

Spoon egg and apple mixture into parchment cup lined muffin tins—1/4 cup each. Gently spoon about one teaspoon of the remaining apple mixture onto the top of each muffin.

Bake for 40 minutes.
Change it up:
Substitute lightly cooked pears or bananas instead of apples.

Add 1/4 cup of chopped nuts or coconut for texture and healthy fats.
Side note:
For more sweetness, add a couple of chopped, dried medjool dates to the apples as they cook
Crockpot Mongolian Beef
This crockpot recipe is one of our favorites and I try to keep one in the freezer most of the time for those days that I don't have anything planned. It works great to take to new moms or a family in need.
Source: Adapted by Blakely Page RD,LD from Onceamonthmom.com who adapted from Let'sGetCrockin.com
Servings: 8 (for freezing divide into 2 gallon zip lock bags for two 4-serving meals)
Ingredients:
3 pounds beef flank steak, cut into stir fry sized strips

4 Tablespoons coconut oil (or butter)

1 teaspoon minced ginger

4 cloves garlic, minced

1 1/4 cup Tamari (gluten free Soy sauce)

1 1/2 cup water

1 ½- 2 cup maple syrup, honey or brown sugar

1/2 cup cornstarch (or sub Arrowroot)

2-3 cups shredded carrots

6 medium green onions, chopped
Directions:
Coat flank steak pieces in cornstarch/arrowroot.  Add remainder of ingredients to crockpot and stir well to combine. Place flank steak into the crockpot and cook on high for 2-3 hours
or on low for 4-5 hours.  Serve over rice, if desired.
Freezing Directions:
Coat flank steak in cornstarch. Combine remaining ingredients in bowl and place in freezer bag.  Add steak to bag. Label and freeze,  To serve: Cook in crockpot on high for 2-3 hours or low for 4-5 hours. Serve with rice or broccoli.