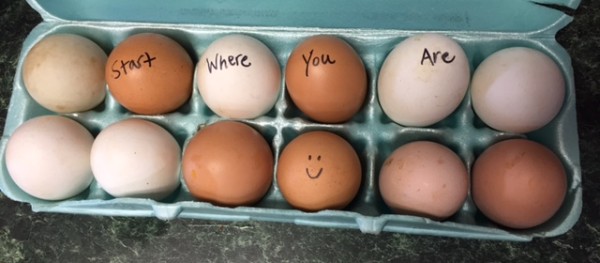 Start Where You Are – Not Where You're Not.
I cannot remember where I heard that quote, but it often serves as a good reminder for me to be where I am and take the next step toward change without the expectation of doing it all at once.  Usually the experts to which I am comparing myself have been honing their craft for years. It can seem overwhelming to begin to move from the standard foods your family/kids love to a real food diet or gluten/dairy-free diet to support the development of your child.
I truly and wholeheartedly believe that nutrition is central to resiliency in development for children with special needs. We also know that different ways of eating have to become the culture of a family. A small step approach generally is more sustainable than a massive overhaul. However, we have to start somewhere, right?
Here are some steps that in my experience, can be implemented each month to truly reshape your pantry, your kitchen, and your food culture in about 6 months. You may feel an urgent need to make changes, but important, lasting, well-understood changes are going to be more beneficial in the long run than hasty, urgent changes made out of fear or pressure. These steps can be done in any order. Really. Pick the one that seems easiest to you and start there.
Switch breakfast from carb loaded cereal, oatmeal and baked goods to protein, fat, and fruit/veggies. Ex: 1. Pastured eggs, bacon, and 1/2c fruit serving; 2. Scrambled eggs with spinach and breakfast sausage with 3/4c berries; 3. Egg cup, ½ c fruit, leftover dinner veggies.
Begin baking with coconut/almond flour for more nutrient dense baking. Here is a favorite in our family. Straight out of the freezer, this tastes just like Starbucks blueberry coffee cake to me. For lower carb, replace honey with Zsweet.  Or bake without flours at all! Delicious chocolate cookies. Substitute Zsweet for coconut sugar and Lily's chocolate chips for the Enjoy Life for a very low carb cookie.
Use real food for snacks instead of prepackaged foods (i.e cheez-it, goldfish, granola bar) and increase vegetables and meats/protein offered as snacks. See list below for snack ideas!
Change the types of fats you buy, eat, and cook with. Cook and bake with coconut oil or real grass-fed butter, which is widely available now. Organic Valley and Kerrygold are most widely distributed. I also love Kalona brand. Use olive oil for cold foods and salad dressings. Save fat from high-quality/pastured/grass-fed meats. Chicken = schmaltz, beef = tallow, pork = lard. Yes I said lard. The quality of the meat/animal is important when saving fat. Don't save fat from conventionally produced meat/animals. You don't ever need vegetable oil again. Nope, not ever. Really. If a recipe calls for it, melt butter or coconut oil. Voila.
Take all the processed sugar out of the picture. Although not low in carbohydrate, honey, maple syrup, and blackstrap molasses are nutrient dense foods providing great minerals. Did you know molasses is a good source of Iron? It's also a good source of calcium, potassium, B6, selenium, and manganese. Organic and unsulfured is the way to go here. Raw honey and grade B organic maple syrup are best, if you were wondering…
Celebrate with people and experiences, not with food. If good grades or good behavior results in ice cream or candy rewards, find a less-loaded (on many levels) way to positively reward like: dollar store toys, "points" toward a bigger toy, time alone w/ mom/dad or for the savvy tween/teens…. straight up cash. This is a lively discussion in schools and this gives teachers ideas from which parents can also draw, but what motivates/encourages YOUR child is the best option.
Snack foods:
KIND bars
Celery and carrots with peanut butter
Fruit and nuts
Hard boiled eggs
Dill pickles and cheddar cheese (just try it)
Berries with coconut whipped cream
Nuts/ Sunflower seeds mixed with dried fruit, chocolate chips, and coconut flakes
In closing, make changes based on the capacity you have and just take one step at a time. As the parent, if you become exhausted, cranky, stressed and unable to connect with your children because you're trying to get them healthy, you've created a different type of deficit by not being present. But, I find most families are surprised at how making 2 or 3 changes like the ones above puts them on a road to a new way that is life-giving and includes the whole family. Start somewhere and be gracious to yourself.
Cheers!
-Blakely