Can Food Change Your Child's Life? One Family's Journey to Yes
A really typical family.
That's how Christi describes what their daily nutrition looked like a few years ago. "Food is a place you can cut costs," Christi says, "so we were trying to see just how cheaply we could eat." This meant a lot of bread, pasta, quesadillas and frozen pizza. But what Christi found is there was an expense for that cost cutting. An expense they didn't even realize until they decided to make a change. But embracing that change took a little time.
Christi's daughter Hanalei was receiving services from Marian Hope. She experienced development delays that CEO Angie Knight thought could be improved through diet. Angie suggested Hanalei go gluten-free but as Christi describes that felt "really alternative." It did get Christi thinking and researching more about food. She was set down a path that led to a cookbook by Nigella Lawson. As she began reading the recipes, she realized all of them were from scratch, used fresh ingredients and called for eliminating high fructose corn syrup and canola oil. The more she read and the more she researched, the more she realized her family was not eating real nutrient dense food.
It occurred to her that Hanalei, who was struggling to gain weight, was not getting what her body needed from the food they were consuming. Christi was even giving her Pediasure every day but still wasn't experiencing any gains. This new knowledge was encouragement enough for Christi to start attending a Marian Hope Nutritional Management Support Group. There she met others who were starting to incorporate nutritional changes. It felt less overwhelming because they were learning together. And overwhelmed was what Christi had been feeling with other approaches.
"We tried everything a doctor told us," Christi shares, "and we were seeing so many specialists that kept telling us the same thing and nothing was changing."
So with Angie continuing to encourage the diet changes, Christi started to open up to the idea. She decided any changes they made, they would make as a family. They began by taking out dairy. And something happened that Christi wasn't expecting. Their other daughter had suffered from eczema and was taking prescription medications to help keep it under control.
When the family stopped eating dairy, the eczema started to clear up, so much so she discontinued the medications. Then they removed gluten and began eating more 'real' food and less processed foods. The benefits were widespread. Hanalei began processing language better and she had significant increases in speech. All this time. All these doctors. And finally they were seeing progress. There were other benefits too. "It made a huge difference for my whole family," Christi says. Christi suffered from severe migraines and suffered from medication side effects.
After making the dietary changes, Christi stopped getting migraines and then stopped needing the medication altogether. Now their family is a 180 degree shift from their diet a few years ago. They eat only grass-fed meat, wild caught fish and organic fruit. Food has ignited a whole shift in approaching health. Christi shares this didn't happen overnight. To get where they are now, it took a couple years of transitioning from the modern American diet and the idea that only medicine can fix an issue.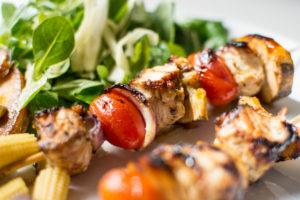 Christi admits there have been some challenges but believes it is not as restrictive as people think. "People think taking out gluten or dairy limits your choices," Christi shares, "but it really just takes a little creativity."
She doesn't try to replace gluten items with 'gluten-free' alternatives. She chooses whole foods rich with nutrients and the natural 'medicine' her family needs.
Some family favorites include Korean beef bowl, roasted vegetables, potato and leek soup and nut butter muffins. She believes the road to now was all worth it. "We were at the point where nothing was working and it felt so hopeless," Christi remembers, "and then you turn to something you think is so on the fringe and that's what ends up working."
At Marian Hope, we support nutrition for our children and families in three main ways – education, application and intervention. The American diet has changed. We consume a higher amount of processed foods. There are increased toxins in our environment and our food sources are depleted of vital nutrients. All of these factors are affecting the health and well-being of our children. Not only does better nutrition help improve development and behavior but kids learn better when they feel better. Marian Hope is here to support every family find solutions and hope. If you would like more information, please reach out to one of our therapists or click on the below resources.
https://www.marianhope.org/wp-content/uploads/2019/03/foodiesfeed.com_paleo-chicken-skewers-with-plantains.jpg
4000
6000
MarianAdmin
https://www.marianhope.org/wp-content/uploads/2023/03/MH_Web-Logo_340x156.jpg
MarianAdmin
2019-03-05 15:07:18
2023-04-03 14:31:08
Can Food Change Your Child's Life? One Family's Journey to Yes