Marian Hope believes in treating the WHOLE CHILD.  We believe that what a child eats affects how that child thinks, feels, functions, and behaves.  Over the years, we have recommended special diets to many of the families we work with.  The majority of these families are reluctant to take on such a monumental change, and with understandable reason.  Dietary changes are lifestyle changes – you have to change the way you shop, the way you cook, the way you think about food.   It is a paradigm shift and it can be a lot of work.  However, most of the families who make a commitment to a dietary change see benefits in their child or family that far outweigh the cons.  For example, Morgan's mom was pleasantly surprised by the results and has been committed to his new diet for nearly a year now.  Read her story below from just a few weeks into their journey.
Morgan has now been gluten free for 5 1/2 weeks. When we decided to do this it was to see if it helped his behavior, his concentration and his stamina. Also, I have Celiac Disease and children with Down Syndrome have a higher rate of Celiac Disease so we thought we would try to get ahead of it with him.
So far the changes have mostly been seen by others. By that I mean he's still being a typical pre-teen, pre-pubescent, back talking grump at home sometimes. Totally typical, right? But, his home speech & occupational therapists have seen a huge difference. I've noticed he answers questions quicker and is less sensitive. A friend's mother also noticed a big difference during a sleepover.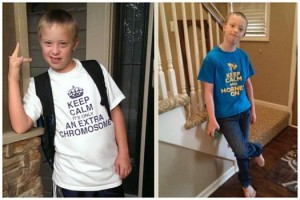 The most noticeable change is his belly! Check out his side by side pictures. His belly is gone! That's something we didn't really expect. Morgan has never been overweight but has always had a belly and I've always shrugged it off as low muscle tone. Come to find out, it was actually bloated from the gluten (which he was totally addicted to). He hasn't lost any weight, he's just no longer bloated.

People will say, of course, he's not eating carbs. That's definitely not the case. This isn't a no carb diet. He eats carbs all day. Just no gluten. What does he eat? Everything he used to love, just gluten free. Pizza, chicken tenders, nuggets, cheeseburgers, turkey sandwiches, pancakes, cookies and fruit (he's always loved fruit). There's more preparation and yes, it's more expensive but if it helps him, I'm up for it.
Marian Hope offers several resources to help families wanting to make dietary changes.  We have a registered dietitian on staff who is available for consultations and we host free Nutritional Management Support Group meetings on the first Wednesday of each month.  We also post helpful links, recipes, and ideas to our website and blog on a regular basis.  Consider it – it might be the key to unlocking new potential in your child!  If you're feeling overwhelmed, check out our Start Where You Are blog to get ideas for baby steps toward change.